Contributed by Mike Gallagher
The Boston Celtics won't be able to shake their old tag for at least a few years. Danny Ainge really sold his team's soul by acquiring Kevin Garnett and Ray Allen just a few years ago. There certainly aren't any complaints among the fan base as the Celtics have become one of the most successful franchises, with the exception of the Lakers. Fantasy wise, Boston is one of the shallowest teams in the league. They run a slower tempo, but being second in turnovers forced, thanks to the adept stealing ability of Rajon Rondo, helps give them some fantasy cred.

Rajon Rondo
Rondo is really on the brink of fantasy greatness. Unfortunately, he lacks one of the most important skills in hoops: shooting. Rondo shot an abominable 62 percent from the line last season. Furthermore, the secret got out that Rondo can't shoot the jumper and teams were giving him a cushion in an effort to prevent penetration. Rondo is working with Mark Price and it wouldn't be out of the question to expect him to shoot over 70 percent. Rondo also doesn't shoot the three, so eight-cat owners will need to address that issue in the early rounds.

Paul Pierce
There was a time when Paul Pierce was a top-10 pick in fantasy hoops. Obviously the big trades and emergence of Rondo have curtailed his numbers. Pierce also broke his streak of two seasons playing in at least 80 games with just 71 last season. Despite The Truth having an injury-riddled season, he should still be one among of the handful of players that should play 80 games this year. Don't reach, but don't let him slip too far past 35.

Kevin Garnett

The perception of Kevin Garnett has drastically changed based on the last two season. Mr. Reliable played in an average of just 63 games over those two seasons and it's beginning to look that he's knees need maintenance like a fine automobile. As ominous as the Garnett forecast might look, he still dropped a line of 14 points, seven rebounds, three assists, a steal , and 0.8 blocks while shooting 52 percent from the floor and 84 percent from the line. Garnett's minutes per game have also been declining more than one minute per season in his Boston stint. Exercise caution when selecting Garnett, but remember he might have a couple years left in the tank.

Ray Allen
Anyone that saw Ray light up the Cavs in the playoffs knows he is fully capable of posting big numbers. Ray used to add a little bit of everything, but as he's aged he's become something of a one trick pony. Ray has done that trick very well by making 48 percent of his shots from the floor. Allen's triples did fall from 2.5 in 08-09 to just 1.8 in 09-10. Conversely his minutes per game didn't suffer at all and he did play in 79.5 games in the previous two season. Ray won't be throwing in the 20 PPG like he did in Seattle, but two triples per game without hurting fantasy owners in any category is worthy of selection in the late-middle rounds.
Jermaine O'Neal
Prior to last season some people would believe that Jermaine O'Neal's knees were held together by Super Glue and Duct Tape. The J.O. played an astonishing 70 games last season after averaging 37 games over the previous three years. Last season he put together collection of 14 points on 53 percent shooting, seven rebounds, and 1.4 blocks for the Heat. The news of Kendrick Perkins not returning until February bodes extremely well for him. Can he stay healthy? It might be worthy of a pick after 100 to find out.

Glen Davis
Big Baby endeared himself to the Boston fans with his hard work and dedication to winning. Those stats don't count in fantasy and Big Baby is never going to be much of a factor outside of three categories. He has upside to produce in points, rebounds, and field goal percentage, but has never been able to even block more than 0.5 BPG over the course of an entire month. Davis could be in line for some minutes with Perkins already down and out and both O'Neals very unlikely to play more than 60 games. The problem with Davis is it's still unknown when he should see an increase in playing time. He's not worth owning until one of the O'Neals is expected to miss time, but he should frequently be added via the waiver wire throughout the season.
Nate Robinson
It was fairly obvious that Lil' Nate would lose considerable value once he was traded to the Celtics from New York. Basically because he has the unenviable task of backing up Ray Allen and Rajon Rondo. Both talented and both relatively able to avoid the injury bug. He got some press for his 12-point outburst against the Lakers, but Doc Rivers played him just 10 MPG in the following games. Nate won't be a factor unless Ray or Rajon go down.

Avery Bradley
Avery Bradley was one of the most talented players to come out of high school before mildly disappointing at Texas. The Celtics were privy to the news of his stellar high school performances and stole him at 19. Bradley has the ability, but lacks the opportunity. He will need a lot of breaks to go his way in order to become a factor this season.

Shaquille O'Neal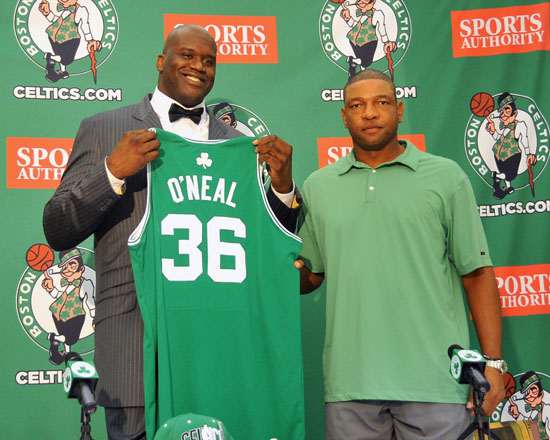 There are plenty of reasons to draft Shaq at the end of your deep draft, but it makes absolutely no sense to do so in roto leagues. The Celtics are likely to limit his minutes and he wouldn't be leaned on much while he is on the floor. Shaq understands that this team belongs to Rondo, Pierce, Garnett, and Ray, which is admirable that he can swallow his pride and become a role player on his second consecutive team. Boston has a lot of games on Thursdays, so Shaq might be a decent add on those nights where there are just two or three games.